Basic and permanent tasks of the Academy
The Academy as the highest independent scientific and artistic institution of the special interest for the Republic has its basic and permanent tasks. The Academy:

Develops scientific thought, cherishes art and provokes cultural development.
Provokes studying of impor tant problems in the field of science and art.
Takes care that scientific information are treated as strategic resource.
Organizes and coordinates research in all scientific disciplines,encourages the freedom of creativity in the field of science and art.
Contributes to creation and achievement of the policy of the development of science, art, culture and education.
Takes care of the develop ment of scientific and research youth in all the areas of creative work.
Advocates the development of the institutions from the field of science, art, capacity building (in the area of science and art), uplifting the quality of educa tion of all the citizens and equal economical and cultural deve lopment of the Republic.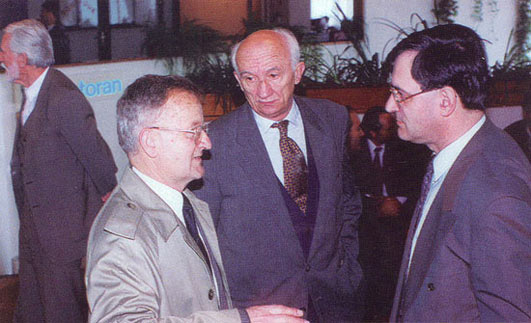 Provokes scientific and artistic criticism, takes part in the validation of the results of scientific and artistic work.
Takes care of harmonious development of fundamental and applied research, interdiscipli nary and multidisciplinary re search, teamwork in research and individual research.
Study natural resources, supports their rational exploita tion and the development of modern industry where the machinery will serve the deve lopment of the society and improvement of human life.
Contributes the develop ment of consciousness on the thing that cultural inheritance, scientific and artistic creativity are the constant resource of new knowledge, and that those know ledge represent national and common wealth of our people, on which the speed, direction and quality of the development of our society depends. "Tantum possumus quantum scimus" – we can what we know.
Publishes the results of re search, important scientific and artistic works in the interest of the Republic of Srpska, its image in science and art, its cultural development and spiritual rebirth.
Organizes scientific confe rences, literary gatherings, exhibitions, lectures and other similar kinds of activities that support scientific and artistic creativity, affirm scientists and artists, authors and inventors.
Accomplishes inter-academy and international collaboration in science and art.
Based on the above-mentioned general and strategic tasks the Academy sets short- term, annual and operational tasks